2013 State of the Union Address Drinking Game
SPECIAL EDITION SOTU DRINKING GAME
FEBRUARY 12, 2013
This year's State of the Union Address is finally here! It is also Mardi Gras and Lincoln's Birthday. So, If Fat Tuesday and the birth of the Great Emancipator aren't cause enough for celebration, we'll be here at 9:00 (Eastern) with our real-time, live-streaming, drink-totaling, super-hyphenated, magic scoreboard.
2013 State of the Union Drinking Game Rules
Start off right. Take a drink if the state of the union is 'strong' - take two drinks if it is anything other than strong.
Take a drink* when you hear any of the following words or phrases
Let me be clear
Invest (ing/ment)
Together
Values
Future
The time for (anything) is now
Opportunity
Robot Uprising
Infrastructure
Immigration
Lincoln
Jobs
Middle Class
Challenge
Energy
Reagan
Watch the Audience
Take a drink any time the camera cuts to a special guest who gets a shout out from the president. A mention alone does not count - they must also receive camera time.
Optional Bonus Drinking
In the tradition of DebateDrinking, select either Democrats or Republicans and take a drink every time only your side applauds.
*Because the SotU may be a high scoring game, we define a drink as a gulp of beer or sip of wine or liquor. Know your limits and please drink responsibly.
And the final score?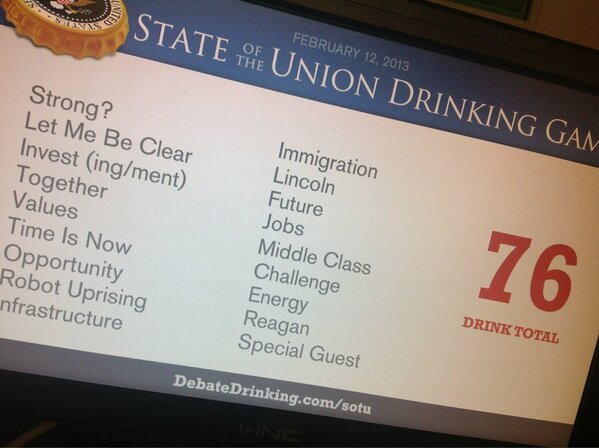 Join us on Facebook and Twitter for updates on future games!