2015 State of the Union Address Drinking Game
SPECIAL EDITION SOTU DRINKING GAME
JANUARY 20, 2015
At DebateDrinking, we believe that drinking games are more fun when you are competing with someone besides your own liver. Normally we have at least two debate participants and a drink cue list for each. For the 2015 State of the Union Drinking Game, it is Obama vs Obama.
2015 State of the Union Drinking Game Rules
Step 1
Pick a side
For this year's SotU Address, we are dividing the drink cues into Obama Team Bo and Obama Team Sunny. If you are having a party, we recommend dividing into teams.
If you are drinking to
Team Bo (blue):

Invest
Challenge
Security
Equality
Health
Jobs
Energy
Income
Congress
Iran

If you are drinking to
Team Sunny (red):

Future
Opportunity
Threat
Wealthiest
Medical
Work
Environment
Wage
Together
Military
Step 2
Watch
Tune in to the debate at 9:00 (Eastern) and follow along right here with our real-time, live-streaming, drink-totaling, super-hyphenated, magic scoreboard.
Step 3
Drink!
When President Obama says a word on your selected list of drink words - take a drink*! We recommend something domestic - we are drinking for America after all.
And the final score?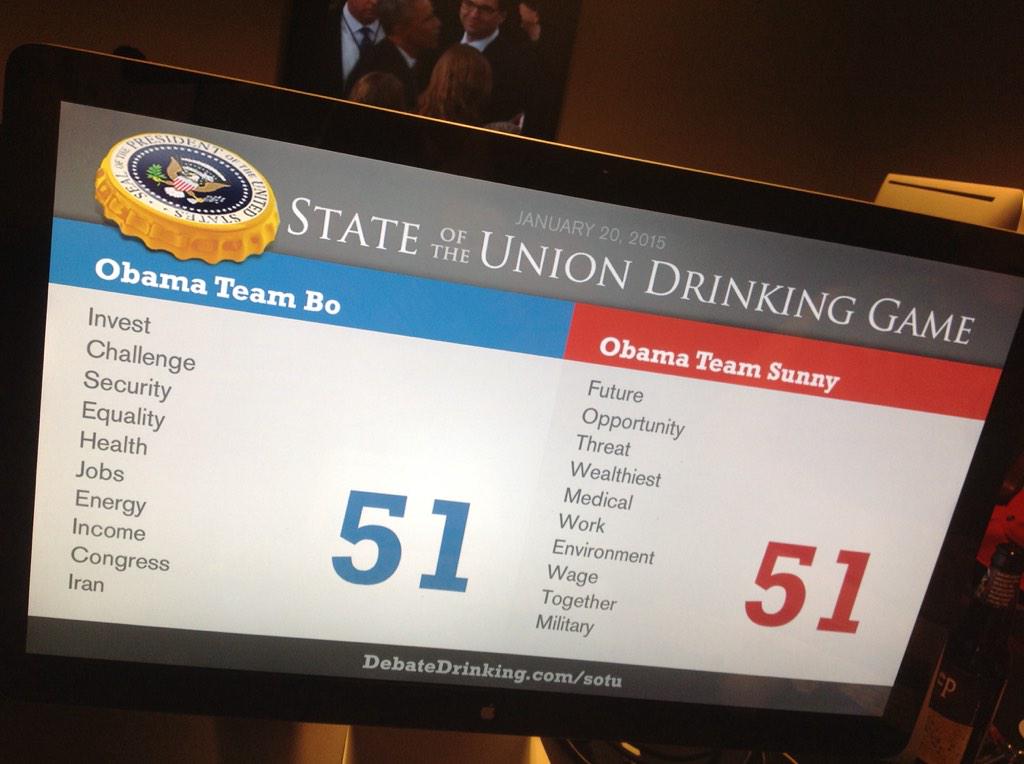 *We define a drink as a gulp of beer or sip of wine or liquor. Know your limits and please drink responsibly.
Join us on Facebook and Twitter for updates on future games!