2014 State of the Union Address Drinking Game
SPECIAL EDITION SOTU DRINKING GAME
JANUARY 28, 2014
At DebateDrinking, we believe that it's not really a game unless you are competing. We typically have at least two debate participants and a drink cue list for each. For the 2014 State of the Union Drinking Game, it is Obama vs Obama.
2014 State of the Union Drinking Game Rules
Step 1
Pick a side
For this year's speach, we are dividing the drink cues into Team Bo and Team Sunny. If you are having a party, we recommend dividing into teams.
If you are drinking to
Team Bo (blue):

Invest
Challenge
Security
Equality
Health
Jobs
Energy
Income
Congress
Iran

If you are drinking to
Team Sunny (red):

Future
Opportunity
Threat
Wealthiest
Medical
Work
Environment
Wage
Together
Military
Step 2
Watch
Tune in to the debate at 9:00 (Eastern) and follow along right here with our real-time, live-streaming, drink-totaling, super-hyphenated, magic scoreboard.
Step 3
Drink!
When President Obama says a word on your selected list of drink words - take a drink*! We recommend something domestic - we are drinking for America after all.
And the final score?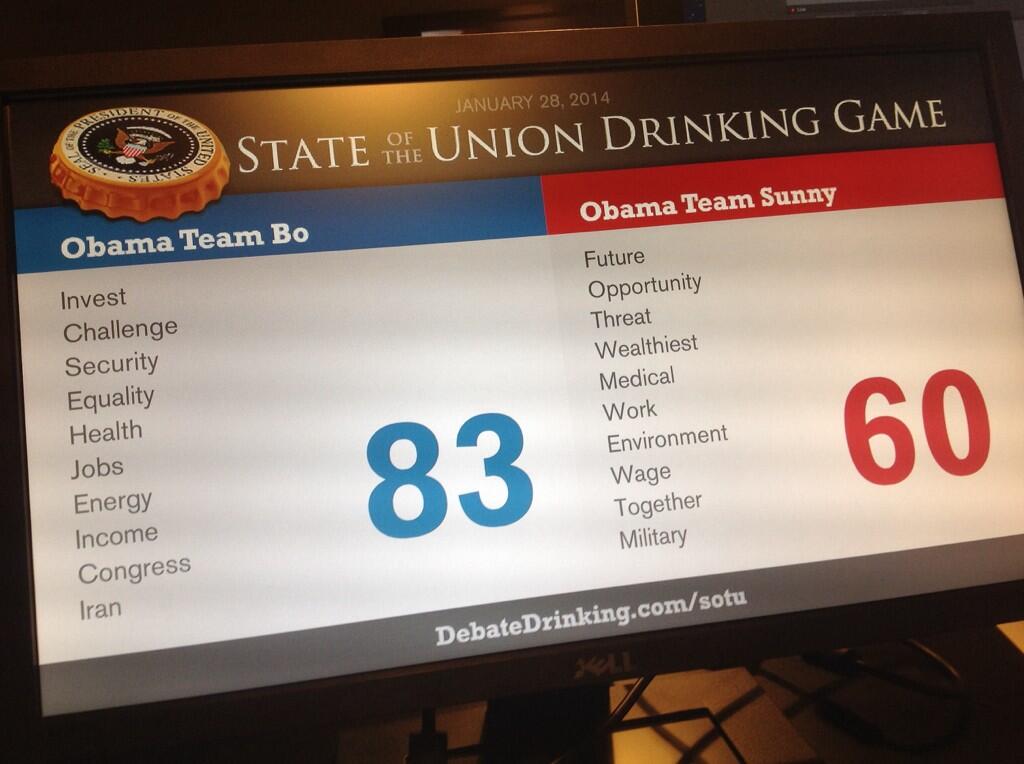 *We define a drink as a gulp of beer or sip of wine or liquor. Know your limits and please drink responsibly.
Join us on Facebook and Twitter for updates on future games!